Braille Embossing
---
Braille Controls

click for a larger image (44K JPG)

click for a larger image (52K JPG)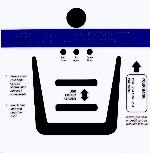 click for a larger image (95K JPG)
We can manufacture braille tags for control switches and buttons on appliances, telephones, ATM machines, computer keyboards or any other piece of equipment.

We can manufacture braille tags in plastic or metal to suit your particular application. These tags are available in a variety of colors and sizes. Braille tags can be "kiss-cut" on sheets with visual wording so that the tags can be applied by a person with sight.

Since each application requires a unique layout, each application requires a special quote. To receive a quote please send us your information to be translated to braille and any drawings of your equipment so that we provide you with an exact price.

See our Technical Bulletin explaining the proposed changes to the ADA regarding braille. These proposed changes are nothing new to us, since we have always made our braille to these new requirements.
---
Return to Main Menu
How to contact MEMCO

Send us email at info@memco.net
---
MEMCO Merrimack Engraving & Marking Co
Methuen, MA
(978) 683-5335