Tatoo Your Tronix
Permanent Marking of Personal Electronics
---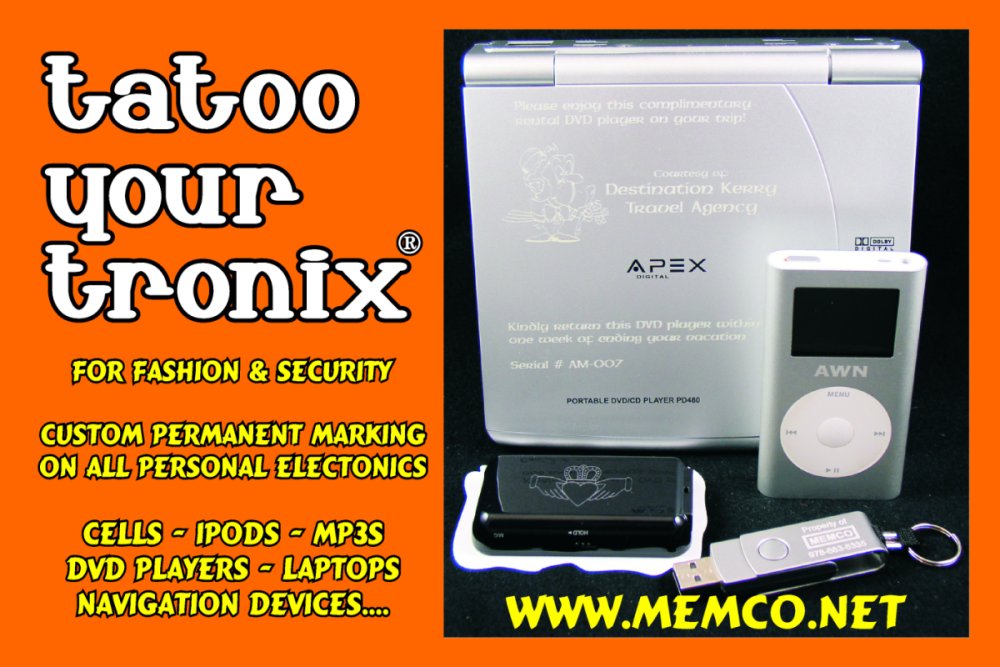 Add a personal touch to your Cell Phone, MP3, Laptop, Navigational Device, iPod, etc. with an engraved monogram, logo or custom sketch of your own!
We can mark on metal and plastic materials quickly, most times while you wait.
Our permanent marking process not only jazzes up your electronics, but adds anti-theft security. Thieves don't want identifiable goods!
Pricing:

iPods, Cells, MP3's, Navigational Devices, DVD Players and other similar flat items:
$25.00 for one item.
$20.00 each for two items.
$15.00 each for three or more items.
All items DO NOT have to be the same. (ie: An iPod and a cell phone will count as two items.)
All items DO NOT have to have the same markings.

Laptop Computers: $75.00 each

Round or irregular shaped objects: Requires a special quote.

Custom Sketches & Artwork: We can reproduce your black and white artwork crisply and cleanly. Please supply any vector artwork, such as drawn in Adobe Illustrator. There is no extra charge for vector based artwork in AI or EPS format. If you have a hand sketch or artwork that needs to be scanned by us, there is a charge of $15.00.
Please note that we engrave at a high resolution, so JPG images do not reproduce cleanly unless they are a very high resolution. If you have questions regarding your artwork, please email a copy to us for evaluation. Place the following text in your email subject line: TATOO ARTWORK EVALUATION.

Corporate and Institutional Discounts: We offer quantity pricing for multiple items to be marked. We can mark logos and serial numbers to assist with your asset management. Please contact us for more details.
---
updated 10/8/08
Return to Main Menu
How to contact MEMCO

Send us email at info@memco.net
---
MEMCO Merrimack Engraving & Marking Co
Methuen, MA
(978) 683-5335